A propos de l'auteur flohey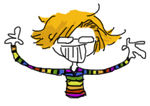 Florence Heyer
Date de naissance : 12 décembre 1986
Email : Contactez-moi
Messagerie instantanée : florence_la_moitie (Skype)
Site Web : http://www.dailymotion.com/floheyflo
Pays : Allemagne

Quelques mots sur moi
Dynamic, motivated, eager to learn, multiculti and multi-engaged
______
contacte me : contact@florenceheyer.com
Mes centres d'intérêt
Different ways of creating (costume, special make-up, video), visiting conventions, running from one thing to the other and learn more and more... interests: I love foreign and exotic languages and cultures. I want to see the world with all it's differences.
Mes films préférés
Fiction (not the fairy-one), action or comedy... but no stupid clown throwing tart-humor.
Mes musiques préférées
favorites in each category first : -- Rock/Hardrock/Metal/Rock... Disturbed, AC/DC, Lynyrd Skynrd, Pink Floyd, Metallica, Billy Talent... -- Pop/Rock/PunkRock/JPop... german Radio, Michael Jackson, some interesting Anime Soundtracks (Cowboy Bebop p.e. and mostly Yoko Kanno, Die Ärzte... -- Acustic/calm Fritz Kalkbrenner, René Aubry, Yann Tiersen -- Ska/Punk.... The White Stripes, Rantanplan, Wizo... -- PopAcapella, MetalAcapella ;D Wise Guys, Van Canto and well... I kind of love Swinnnnng! ;) _____________________________________________ in short: nothing too girlish and monotone repetitive music! (like someone said once : "minimal techno")
Mes livres préférés
Action/Comedy or simply comics, manga, BDs with a little different fascinating style.